HitTrax
Redefining the Game
Call 716-565-2096 to book a time.
So much more than a training aid, HitTrax is the only data capture and simulation system that provides powerful performance metrics with a game time experience.
Using patented technology, HitTrax has revolutionized the baseball/softball industry by greatly enhancing training capabilities and engaging players like never before.
Softball and Baseball
Adapts to All Skill Levels
Live Pitching, Pitching Machines, Soft Toss or Batting Tee
110+ mph measurements
+/- 1 mph accuracy
Millisecond response time
Learn More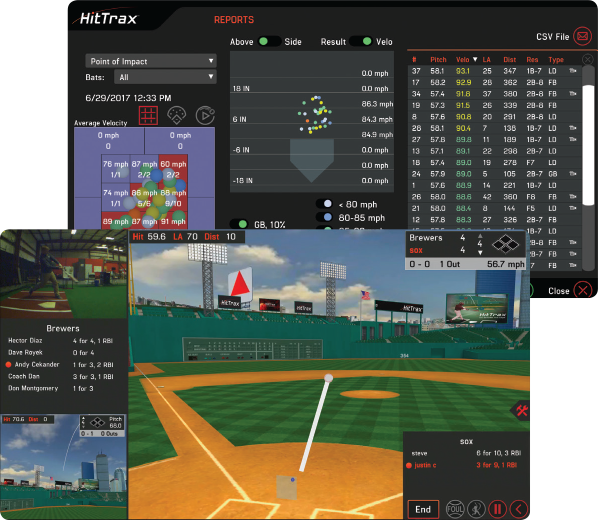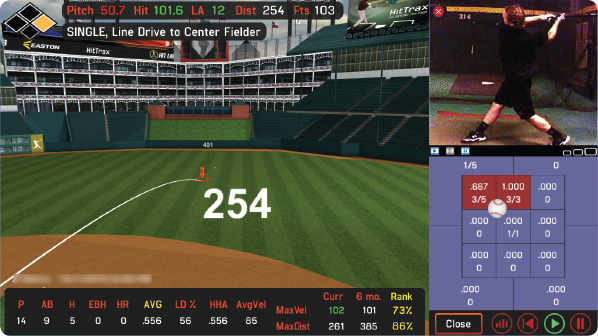 INSTANTANEOUS FEEDBACK. REAL-TIME STATS. GAME CHANGING DATA.
HitTrax measures key performance metrics and generates in-depth reports, allowing for pitch-by-pitch analysis, session summaries, and trend charting over any time period.
With an unmatched experience, batters can view their performance as if playing in their favorite stadium while measuring metrics such as exit velocity and launch angle! Pitchers can see their late movement, along with pitch speed and location, and work to optimize their delivery. Pitchers and batters can even compete head- to-head in realistic at-bats, while all data is recorded simultaneously.
Learn More
HITTRAX STATSCENTER. STAY CONNECTED.
All data collected with HitTrax is securely stored in
the cloud and available to players, coaches, and facility administrators via the HitTrax StatsCenter membership service. Access video analysis, powerful interactive reports, and even replay sessions away from the cage
via desktop and mobile apps. Bundle this service with your training packages and team memberships delivering more value to your players, while keeping them connected to their instruction and progress
StatsCenter